Renditions no. 61 (Spring 2004)​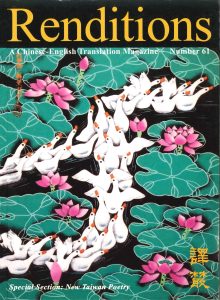 Special Section: New Taiwan Poetry
Thirty-four established as well as young emerging poets representing the latest trends in New Poetry from Taiwan are included. The issue also contains a modern short story, Buddhist homilies and two classical letters.
135 pages

Editor's Page
5
————
Stories from Kumārajīva's Buddhist Homilies
Translated by Yuet Keung Lo
7
Xu Hongzu, Chen Jiru
Two Letters
Translated by Julian Ward
19
Xu Xiake's Letter to Chen Jiru
Chen Jiru's Reply to Xu Xiake
Zhang Henshui
Dream the Fifteenth from Eighty-one Dreams
Translated by T. M. McClellan
27
NEW TAIWAN POETRY
William Tay
Taiwan Poetry at the Turn of the 21st Century
50
Chou Meng-tieh
Door and Poetry
Translated by Michelle Yeh
52
Fang Si
Bridge
Translated by John Balcom
54
Xiang Ming
Last Call for Sowing
Translated by Martha P. Y. Cheung
56
Guan Guan
long alley song
Translated by Eva Hung
57
Shang Qin
With Time on its Back Waiting for Time
Translated by David E. Pollard
58
Xin Yu
Impromptu 1 and 2
Translated by Chu Chiyu and Brian Holton
59
Lin Ling
The Fugitive Train: To an unknown companion on a trip, Poland, 1990
Translated by Lisa Wong
61
Suo Si
Between Agony and No Agony; Between Drowsiness and Consciousness
Translated by Maghiel van Crevel
69
Hwang Chun-ming
Moonlight Comedy
Translated by Janice Wickeri
69
Xiong Hong
No Need for Poetry
Translated by Eva Hung
70
Yang Mu
The Lost Ring—for Chechnya
Translated by Lisa Wong
71
Yan Xiang
The Shirt
Translated by Martha P. Y. Cheung
82
Hsi Muren
Moonlight Illustrations
Translated by Mamie Osborne and Zheng Jianqing
84
Zhang Cuo
She Lowers Her Head
Translated by Michelle Yeh
86
Su Shaolian
Three Short Poems
Translated by Mary M. Y. Fung
88
Scars
Tongues
Chins
Ling Yu
Stele Woods
Translated by Chu Chiyu and Brian Holton
90
Chen I-chih
A Chinese Valentine's Day Palette
Translated by Sylvia Lin
91
Chen Li
Wooden Fish Ballad
Translated by Jane Lai
92
Yang Ze
I'm Living In …
Translated by Chu Chiyu and Brian Holton
96
Lo Chih-cheng
Spring 2001, Unreachable Civilization
Translated by Sylvia Lin
98
Chung Chiao
Grief in Time
Translated by Maghiel van Crevel
100
Chen Ko-hua
The Station at the End of the World
Translated by Simon Patton
102
Hui Tong
The sea needs consoling
Translated by Michelle Yeh
104
Hong Hong
Terrorist
Translated by Yau Wai-ping
106
Luo Ye
Hot Spring—for Ah Jie
Translated by John Balcom
108
Lee Chin-wen
How I Feel About My Mother
Translated by Janice Wickeri
110
Hsu Hui-chih
Remembrance in Emptiness
Translated by Mary M. Y. Fung
113
Tang Juan
I want to but I can't
Translated by Chi-yin Ip
114
Yen Ai-lin
Apple in a Vase
Translated by Chu Chiyu and Brian Holton
115
Sun Tzu Ping
Roar of the Tide at Chinpi
Translated by Simon Patton
116
Wu Tai-ying
Sitting in front of the TV, cursing
Translated by Yau Wai-ping and David E. Pollard
118
Lin Wan-yu
In the Mist
Translated by Audrey Heijins and David Lunde
120
Yang Jiaxian
Moth at Dusk
Translated by Audrey Heijns and David Lunde
122
Chen Chünhung
To Face
Translated by Maggie Leung with Madeleine Marie Slavick
123
Notes on Authors
125
Notes on Contributors
132
The material displayed on this page is for researchers' personal use only. If you wish to reprint it, please contact us.
HWANG CHUN-MING
Moonlight Comedy
Translated by Janice Wickeri

struggling to get hold of it's what caused the whole thing
cloud's grasp slipped and moon dropped
straight into the pool
who'd have known
moon was so slight it would strike without a sound
without making a splash
the pool, though, was broken
and moon was shattered
A—why did Li Bai bother?
the cloud, hurrying up afterward,
scooped up the broken years from the pool
and rushed them back to the heavens
黃春明:月夜的喜劇

都是因為爭著要抱
雲朵失手抱掉了月亮
直落水塘
不料
月亮竟輕得擊不出水聲
也濺不起水花
但是水塘破了
月亮也碎了
唉!李白何苦?
後頭趕上來的雲朵
把漂浮在水塘裏的歲月
急急忙忙撈回天上
HONG HONG
Terrorist
Translated by Yau Wai-ping
Almost all the audience have entered I suddenly need to pee oh bother I apologize as I brush by those who have just taken their seats I dash to the toilet outside the auditorium I start to pee the performance must have started by now after a while my elementary school teacher passes by and asks from the doorway what are you doing here but I'm not finished peeing after another while my platoon leader at Cheng Kung Ling* passes by he asks from the doorway what are you doing here I hem and haw after yet another while this time it's my son he says dad you must be in somebody else's dream and this person wants to pee there's no way you're getting out of this toilet before his desire to pee is resolved I say good but how do we alert him my son tilts his head and says maybe you kill me or I kill you this should wake him up does it really have to be this violent I feel frustrated well there's another way having said that he turns to go during intermission I hear people say a kid has hijacked a plane and crashed it into the White House I burst out sobbing then they hurry back to their seats and those who have lost interest head home only I am left standing in the toilet still peeing is that person really going to wake up very very soon
——————–
*Military training centre in Taichung.
鴻鴻:恐怖分子

觀眾已經快要全部進場完畢我突然感到尿急真的是我一面道歉一面穿過那些剛坐好的觀眾匆匆跑到大廳外的廁所開始小便演出一定開始了吧過了一會我的小學老師從門外走過你還在這裏幹甚麼呢可是我還沒有尿完又過了一會我的成功嶺排長從門外走過你還在這裏幹甚麼呢我支支吾吾又過了一會這次是我的兒子他說爸爸你一定是在某一個人的夢裏而他想裊裊在他的尿意沒有解決之前你是沒有辦法離開這間廁所的我說好極了可是怎麼提醒他呢兒子歪了頭說不然你殺了我或者我把你殺掉這樣他應該會醒過來吧真的要這麼激烈嗎我覺得很氣餒不然還有個辦法他說完就轉身離開中場休息時觀眾說有個小孩劫了飛機衝進白宮我哭了然後他們又急著進去坐好或感到興味索然準備回家只有我還站在廁所裏繼續尿著真的嗎那個人快要快要醒過來了嗎
YEN AI-LIN
Apple in a Vase
Translated by Chu Chiyu and Brian Holton

who planted the apple
in my body?
month by month,
ripening with fruit
heavily falling into the depth of my womb,
I feel heavy, dizzy
as if something is going to happen
who granted me these sharp
scales of physiology?
the apple is ripe, rotting
into thick fluid,
and angrily, speedily
sinking down
leaving my body.
my scales, feeling
this tiny universe,
feel death.
then      nothingness restored.
the apple has only one pip left,
with a solid tear-drop shape
hanging,
in my dark secret vase.
顏艾琳:瓶中蘋果
是誰將蘋果
種在我的體內?
每月每月,
它成熟著果實
沉沉落底在子宮中,
而我感覺滯重、暈眩
仿佛有甚麼即將發生。
是誰賦予我敏銳的
生理天秤?
那蘋果熟致腐爛
化為稠汁,
並且憤怒地、快速地
往下墜落
離開我的身體。
我的天秤,感覺
一個小小的宇宙,
死亡。
然後        恢復無物。
那蘋果僅留一籽,
以結實的眼淚形態
懸于我幽密的花瓶,
之中。