Renditions no. 64 (Autumn 2005)​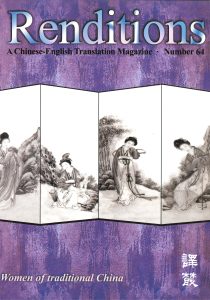 Women of traditional China
Liang Qichao claimed that traditional Chinese women were no more than dependents of men who never engaged in productive labour. The writings in this issue, covering topics from education to literary accomplishments, and from service at court to widowhood, prove him soundly wrong.
127 pages

Editor's Preface
5
————
The Lives of Palace Women in Tang Quatrains
Translated by Geoffrey R. Waters
11
Olivia Ching Man Shun
Domestic Education of Women in the Tang Dynasty
Translated by Chi-yin Ip with Janice Wickeri
38
————
The Life of Yuan Suwen, as told by Yuan Mei and Yuan Shu
Translated by David E. Pollard
58
Yuan Mei: The Life of My Sister Suwen
Yuan Mei: Requiem for My Younger Sister
Yuan Shu: A Lament for My Sister (four poems)
Yuan Suwen
Eight Poems
Translated by Maureen Robertson
70
Mirror
Autumn Night
Vignette of a Quiet Life
In Memoriam: For My Deceased Husband (three poems)
Miscellaneous Poems from Sui Garden, No. 4
To My Mother-in-Law
Lin Shu
My Concubine Madam Yang
Translated by Chu Chiyu
78
Qingyun Wu
Daring to Dream: Wang Yun and Her Play A Dream of Glory
83
Wang Yun
A Dream of Glory: excerpts
Translated by Qingyun Wu
96
Qiu Jin
Two Poems
Translated by Audrey Heijns and David Lunde
107
Aspirations
In Reply to Mr Ishii
————
Three Poems on the Burial of Qiu Jin
Translated by Eva Hung
111
Wu Zhiying: A Lament for Shanyin
Xu Zihua: Written during the Yangtze Crossing on the 27th of the 11th Month to Attend to the Burial of My Friend Qiu Jin (two poems)
Book Reviews
115
Notes on Authors
120
Notes on Contributors
126
The material displayed on this page is for researchers' personal use only. If you wish to reprint it, please contact us.
My Concubine Madam Yang
By Lin Shu
Translated by Chu Chiyu
The 16th day of the 5th month, 1924. My concubine Madam Yang has just passed her 50th birthday, and to mark the occasion I wrote an account of her life. No one since ancient times has ever written a birthday essay recording the life of his concubine, so this is a practice which has started with me. 
YU, NÉE YANG, Daoyu to us, was from Yangzhou. She lived in poverty when she was a child. At the age of five, she entered the household of Mr Sun, Transport Commissioner.
One cold winter day, Daoyu stared at the heavy snow with tears pouring down her cheeks. When asked, she said she was mourning her parents who lived in a mat-shed and died in a heavy snow. Marvelling at this, Madam Chen, wife of Fan Jishan whose style name is Guangwen, asked Mr Sun for the girl and adopted her as a daughter. When she grew up, Madam Chen was very selective about whom to marry her to, and as a result, not till she was twenty-four was she married to me as a concubine. In the following year, she bore me a son, Lu.

In the year 1913, we moved to the Capital from Hangzhou. My eldest son, Gui, was appointed a county magistrate on completing the construction of the imperial tomb. Before his audience with the Emperor, he needed to pay the fees for a guarantor in the Board of Civil Office and registration charges amounting to 4,000 dollars, which was equal to five years' savings for me. When the money was taken out of Daoyu's chest, she did not show the slightest concern. I asked, 'How come you don't grudge these 4,000 dollars?' She replied, 'A concubine who takes money belonging to the wife's sons to enrich her own will bring misfortune on her own sons. Though I am uneducated, I have seen dreadful catastrophes that had befallen other families. I wouldn't let down my lady by doing anything against my conscience.' I was moved to tears by this.
When my younger brother died at the age of forty, he left two sons, Xiu and Yu, to be provided for by me. Daoyu said, 'Now that my Master is taking care of these two orphans who when they grow up will be no more than commoners, won't it be a good idea for you to send them to school? You don't have many brothers, so you should nurture the younger generation so as to make the Lin family prosper.' To that I agreed whole-heartedly, so I spent over 2,000 dollars on their education and their weddings. Xiu, who is a section head in the Army Board, has risen to the rank of major-general, while Yu, who joined the Navy Board, is also a section head. Whenever they return from their offices, Daoyu treats them respectfully and they, too, treat her as their own mother.
…