Renditions no. 66 (Autumn 2006)​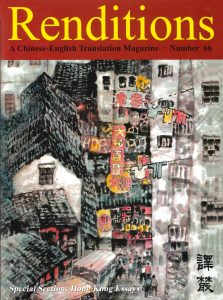 Special Section: Hong Kong Essays
Hong Kong is perhaps best represented by the essay, a form that has flourished and taken on a uniquely local flavour, especially in the last half-century. This special section includes some of the most notable works from the last half-century by a diverse group of writers. Renditions, itself a Hong Kong institution, provides here a glimpse into the ever-changing society of this vibrant city. A selection of classical poetry rounds out the issue.
127 pages

Editor's Page
5
————
Shijing: Thirteen Poems
Translated by Michael E. Farman
7
————
Shijing: One Poem
Translated by David Lunde
23
————
Two Anonymous Poems from North-eastern China
Translated by De-nin D. Lee
24
————
Four Tang Poems
Translated by Louise Ho
28
Wang Wei: Two Poems
Jia Dao: Heavy Clouds
Du Fu: Thoughts on Drifting
Du Mu
Four Poems
Translated by Cornelius Medvei
32
Ouyang Xiu
Four Poems
Translated by Li C. Tien and John Palen
35
————
Ten Poems on Yangzhou
Translated by Mark Stevenson
40
Du Mu: Four Poems
Liu Changqing: Climbing the Pagoda at Spirit Lodge Monastery, Yangzhou
Zhang Hu: Exploring Huainan
Xu Ning: Thoughts of Yangzhou
Wang Jian: Taking in Yangzhou Market One Night
Wei Zhuang: Returning Through Yangzhou
Gong Zizhen: Passing Through Yangzhou
————
Four Classical Poems
Translated by Jianqing Zheng and Angela Ball
52
Han Yu: Listening to Master Ying Playing the Zither
Meng Haoran: Mooring on the Jiande River
Zhang Ji: Night Moor by the Maple Bridge
Li Zhiyi: To the Tune of Fortune-teller
Hanshan Deqing
Six Zen Poems
Translated by Mary M. Y. Fung and David Lunde
57
Chang Hsiu-ya
Two Poems
Translated by Herbert Batt and Sheldon P. Zitner
63
SPECIAL SECTION: HONG KONG ESSAYS
Cao Juren
Having Adrifted over the Sea of Life: excerpts
Translated by Brian Holton
66
Si Guo
Unemployed
Translated by David E. Pollard
72
Xia Guo
The Emotional Appeal of Wonton Noodles
Translated by Heidi Chan
79
Zhao Tao
My Life with Mirrors
Translated by Simon Patton
82
Joseph S. M. Lau
Potato-eating Days: excerpts
Translated by Chu Chiyu
86
Du Du
Going to the Movies
Translated by Eva Hung
91
Chung Ling Ling
Those Aches and Pains
Translated by Simon Patton
94
Hui Tik Cheung
Falling
Translated by Florence Li and Janice Wickeri
97
Yuan Yuan
Good Work Undone
Translated by Heidi Chan
99
Chan Tak Kam
Blind Fortune-tellers
Translated by Caroline Mason
103
Wu Yin Ching
High Street
Translated by Janice Wickeri
106
Dung Kai Cheung
Spring Garden Lane
Translated by Bonnie S. McDougall with Wong Nim Yan
111
Ye Si (P. K. Leung)
Photographing the New Territories
Translated by Chi-yin Ip
114
Notes on Authors
117
Notes on Contributors
124
The material displayed on this page is for researchers' personal use only. If you wish to reprint it, please contact us.
Thoughts on Drifting
By Du Fu
Translated by Louise Ho
Fine grass and a gentle breeze on the bank,
Tall mast and my solitary boat this night,
Stars descending sweep the great wide plain,
The Moon boils up from the flowing river.
My pen, will it ever bring me fame?
Aged and ill, make I
My office to forego.
Drifting, ever drifting, what I am like:
Between the heavens and the earth one solitary gull.
杜甫:旅夜書懷
細草微風岸
危檣獨夜舟
星垂平野闊
月湧大江流
名豈文章著
官應老病休
飄飄何所似
天地一沙鷗
Going to the Movies
By Du Du
Translated by Eva Hung
AS A CHILD I often went with my elder brother to the cinema for the late afternoon shows. The medium priced seats cost forty cents, and the two of us could go in on just one ticket and share a seat in the cinema. Since I was quite young, I sat on the arm of our seat. That way my brother could sit more comfortably, while my elevated position afforded me a full view of the screen. We saw Burt Lancaster in Apache and The Crimson Pirate, and Ingrid Bergman in Joan of Arc. Though my brother was terribly moved by Bergman's performance, the film did not leave any strong impression on me. All I remember was that before she died, Joan held two sticks in her hands to form a cross.

I also remember that as the movies played, I would keep asking my brother: 'Who are the bad guys? Who are the good guys?' To a child, people had to be either black or white. Dividing everyone into two neat categories-our side and the enemy side-meant that everything would fall into place, and I could then go on watching the movies with peace of mind. But I don't recall very clearly whether my brother ever answered my questions.
…