Renditions no. 67 (Spring 2007)​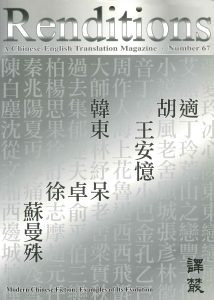 Modern Chinese Fiction: Examples of Its Evolution
Directed by political discourse and framed by school and university syllabi, 'Modern Chinese Literature' has always been presented as the fruit of an abrupt break with tradition. The validity of such a representation is now in question. Featuring examples of Chinese fiction written in the last nine decades, this issue reveals the diverse elements that contributed to the genre's development, particularly in terms of narrative structure and voice.
128 pages

Editor's Page
5
Su Manshu
The Tale of the Burning of the Sword
Translated by T. M. McClellan
9
Hu Shi
Rewriting of Chapter 99 of The Journey to the West
Translated by Qiancheng Li
28
Xu Zhuodai
The Fiction Material Wholesaler
Translated by Christopher Rea
46
Wang Anyi
Uncle's Story: excerpts
Translated by Willard Woodworth White
63
Han Dong
Striking Root: excerpts
Translated by Nicky Harman
70
Notes on Authors
126
Notes on Contributors
128
The material displayed on this page is for researchers' personal use only. If you wish to reprint it, please contact us.
Rewriting of Chapter 99 of The Journey to the West
By Hu Shi
Translated by Qiancheng Li
Bodhisattva Guanyin Examines the Book and Adds Another Trial
The Tang Monk Slices his Flesh and Brings Salvation to All the Demons
NO SOONER had Bodhisattva Guanyin read through the register of the ordeals the Tang monk had experienced than she suddenly said, 'In the Buddhist faith nine times nine leads to immortality. The sage monk has suffered eighty ordeals, one trial short of this number.' Thereupon she ordered the Guardians of the Five Directions: 'Catch up with the Vajra Guardians and create another trial.'

One of the Guardians of the Five Directions took the command and, riding the clouds, sped to the East. Soon he caught up with the Vajra Guardians and whispered into their ears the Bodhisattva's Dharma decree. The guardians stilled the wind, making the Tang monk and his disciples, the horse, and the sutras fall to the ground. Alas, it is—
Nine times nine leads to immortality; the Tao is difficult to achieve indeed.
An iota of effort short, the Elixir will not jell.
Mounted on clouds they should reach the land of Tang in days,
Who had thought they'd fall down all of a sudden?
With his feet on the mundane earth, Tripitaka was stunned. Bajie chuckled, 'Fine! Fine! This is exactly "The faster one flies, the harder one falls."' Sha Monk said, 'Maybe the Vajra Guardians escorting us went to visit a relative midway, giving us a break.' Pilgrim, with his Fiery Eyes and Diamond Pupils, had already seen a Guardian of the Five Directions overtaking the Vajra Guardians and whispering to them, and knew that something was brewing, but he did not reveal anything. Instead, he said to the Tang monk, 'Master, they're gone, leaving us stranded here. We might as well begin enquiring about what place this is, and to which country it belongs.' The Tang monk said, 'Wukong is right. I hear the flow of water in the distance. I wonder whether it's a river we've crossed.'

Pilgrim soared into the air and, with one hand shielding his eyes, took a careful survey. 'Master, there is indeed a great river beyond this forest,' said he, descending. 'It looks both long and wide, but the current is not turbulent: it doesn't look like the Flowing-Sand River, nor the Heaven-Reaching River. Perhaps it's one we've never come across.'
…