Renditions no. 69 (Spring 2008)​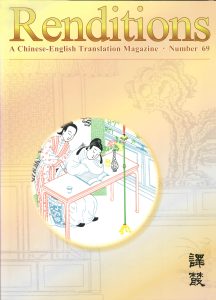 This is the 35th anniversary issue of Renditions with an article dedicated to our founding editor, George Kao, who passed away on 1 March 2008. This issue features several translations related to performance and theatre: a late Ming or early Qing dynasty drum ballad, which is a rare example of a fully-developed animal fable, a nineteenth century 'flower guide' appraising the qualities of boy-actors, a one-act play by Ding Xilin involving cross-dressing, and poems by Wen Yiduo about a drummer and a balladeer. For the first time Renditions presents translations into Scots, which is used for two Wen Yiduo poems originally written in vernacular Pekinese. Other items include prose sketches by Wang Anyi, a short story by Xi Xi and poetry by P. K. Leung.
133 pages

Editor's Page
5
Chi-yin Ip
George Kao: His Life and Works
7
Ding Yaokang
Southern Window Dream
Translated by Wilt L. Idema
20
Reclusive Fisherman of Fragrant Rivulets
Notes on Flower Appreciation in the Phoenix City
Translated by Mark Stevenson and Wu Cuncun
34
Ding Xilin
Dear Husband
Translated by Bonnie S. McDougall and Flora Lam
62
Wen Yiduo
Five Poems, Including Some Early Editions (1925–28)
Translated by T. M. McClellan
76
Xi Xi
The Bowl
Translated by Bonnie S. McDougall and Wong Nim Yan
103
Wang Anyi
Under the Street Lights
Translated by Shin Yong Robson
107
Leung Ping-kwan
Beijing Sketches
Translated by Bonnie S. McDougall
112
Book Reviews and Book Notices
124
Notes on Authors
130
Notes on Contributors
132
The material displayed on this page is for researchers' personal use only. If you wish to reprint it, please contact us.
Dear Husband
By Ding Xilin
Translated by Bonnie S. McDougall and Flora Lam
…
YUAN: True, true. (Picks up the cigarette tin on the table and offers it to LIU) Would you like one?
LIU (refusing): Oh, sir!
YUAN: What's the matter? You've quit smoking?
LIU: You must be aware that this is not your residence.
YUAN: Oh, you're right, I shouldn't be offering someone else's cigarettes. (takes out his cigarette case and passes it over to LIU) Have one of mine. They're Golden Horse brand, a genuine domestic product. Try one, see what you think. (Still reluctant, LIU automatically glances at the door.) Oh, don't worry. Your master and mistress both know their place, they won't blame you if a guest offers you a cigarette.
LIU (takes one): Thank you, sir. (Lights the cigarette himself and inhales. The cigarette reminds them of their former relationship, so they begin to talk in a more intimate manner.) Have you met the mistress, sir?
YUAN: No. Why do you ask?
LIU (hesitates): Because … I wanted to talk to you before, but I never had the chance. (Moves closer) I think the mistress is a bit strange.
YUAN: In what way strange?
LIU: Please don't tell the master and mistress.
YUAN: Go ahead.
LIU: The mistress …
YUAN: What about your mistress?
LIU: The amah says …
YUAN: What does the amah say?
LIU (Lowers his voice, coming closer to YUAN): The master hasn't slept in the mistress's room once since she's been here.
YUAN: You fool!
LIU: You think I'm being foolish? Don't you believe it?
YUAN: Oh, I believe you all right!
LIU: Don't you think it's strange?
YUAN: Yes, it is strange, but it's not your mistress who's strange, it's your master. Do you have any idea what kind of person your master is?
LIU: No.
YUAN: Well, your master is a poet. Do you know what kind of a person a poet is? Ah, I see you don't. A poet is someone who can see what other people can't but can't see what other people can; who can imagine what other people can't but can't imagine what other people can; and who can do what other people can't but can't do what other people can.
LIU (doubtful): The mistress locks the door every night when she goes to bed.
YUAN: So what? Your master has the keys in his pocket! (LIU shakes his head.)
LIU: The cook says …
YUAN: What does the cook say?
LIU (lowers his voice): The cook says our mistress must be a … (Going over to YUAN's side, LIU whispers.)
YUAN: Rubbish! Get out, you oaf!
…