Renditions no. 72 (Autumn 2009)​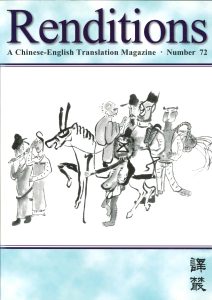 This miscellaneous issue features excerpts from Jin Yong's martial art novel The Smiling, Proud Wanderer, a short story about Japanese expatriates in Taiwan upon their WWII defeat, as well as Li Yu's exposition on the theatre. Also included in the issue are selections of poems by Liu Yong and the Tang-dynasty monk, Jiaoran.
118 pages

Editor's Page
5
Jiaoran
Eight Chan Buddhist Poems
Translated by Mary M. Y. Fung and David Lunde
7
Liu Yong
Eight Ci Poems
Translated by Julie Landau
13
Li Yu
Li Yu on the Theatre: excerpts from Pleasant Diversions
Translated by David Pollard
30
Zhong Lihe
The Fourth Day
Translated by T. M. McClellan
71
Jin Yong
The Smiling, Proud Wanderer: excerpt
Translated by Wee Kek Koon
94
Gu Cangwu
Grandfather's Mansion: excerpts
Translated by Chi-yin Ip
103
Book Reviews and Book Notices
108
Notes on Authors
115
Notes on Contributors
117
The material displayed on this page is for researchers' personal use only. If you wish to reprint it, please contact us.
Li Yu on the Theatre: excerpts from Pleasant Diversions
Translated by David Pollard
1. Structure
COMPOSING LIBRETTOS is a trivial pursuit for literary men, but if one stoops to it, one still feels it is preferable to horse racing and swordplay, drinking and dicing. Confucius said, 'Are there not such things as dicing and chess playing? To engage in them is better than being idle.' Though dicing and chess are games, they are better, in his words, than 'gorging yourself all day, and not putting your mind to anything'. Now, is not composing librettos superior in turn to dicing and chess? In my opinion, pursuits are not to be differentiated by their triviality or importance, what is to be prized is the proficiency attained. Talent is not to be measured as slender or vast, but in the benefit derived from putting it to good use. Though one's ability may be limited, if skill is honed and put to good use, one can still achieve distinction. Otherwise one might boast of huge talent and claim vast learning, but if one's essays are full of allusions to the dead and gone and one's books are only useful for covering sauce jars, all is in vain.
It is not simply that literary men can make a name for themselves by composing librettos, even a past dynasty has reserved a memorable place for itself in history by virtue of the excellence of its operas.
…
There was nothing commendable about the institutions and ceremonials of the Yuan dynasty, and even in language and learning it left only a paltry legacy. Had it not been for its enthusiasm for operas, which led to The Lute, West Wing and 100 Yuan Plays 元人百種曲 being bequeathed to later ages, then the Yuan would have faded from history along with the Five Dynasties, Jin and Liao, and not be forever on the lips of the learned, in company with Han, Tang and Song. This shows that a reign of emperors can gain prestige on account of its operatic compositions. Seen in this light, the composition of librettos is actually not a trivial pursuit, but a particular branch of the same stream that feeds historiography, poetry and prose writing. A good many have been attracted to this art in recent years, eager to count as successors to the Yuan writers and share honours with Tang Xianzu 湯顯祖 of the Ming, but in the end very few true authors have emerged, and I know of no acclaimed works. What is the explanation for this, you might ask? It is because to learn the art of composing operas they have only the texts of previous works to study, they have no scheme to follow. In a dark room you are blind without a lamp: no wonder that no path can be found, no guide discovered to ask the way of. Most aspirants give up halfway, and not a few founder when success is within their reach. It has struck me that when a new genre of literature appears, there closely follow manuals which set the norms and standards for that genre, playing the part of diligent tutor. Only in respect of composing opera do we get either loose generalizations or else complete neglect. I can think of three reasons for this.
…