Renditions no. 74 (Autumn 2010)​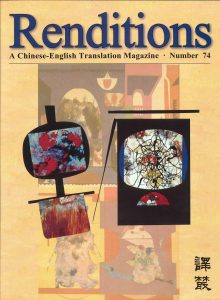 This issue begins with a Scots translation of Du Fu's 'Autumn Meditations', accompanied by an essay that reflects on the considerations in translating poetry. A deeply felt eulogy to the late modernist poet from Taiwan, Shang Qin, is written by his friend and fellow writer Wai-lim Yip. Lu Xun's essay 'Lessons from the History of Science' sheds light on the series of events that Chinese thinkers and writers were faced with at the turn of the 20th century. Other features comprise superb translations of three contemporary poets, Han Dong, Genzi, and Wann Ai-jen, an anti-war short story by Xue Yiwei, and a short essay by Bei Dao.
121 pages

The material displayed on this page is for researchers' personal use only. If you wish to reprint it, please contact us.
Du Fu in Autumn: A Poem and a Provocation
By Brian Holton
Du Fu: Quicken i the Hairst-time
(Quickened in Autumn)
杜甫:秋興八首
1

Nithert bi the dews o the hairst time,
the maple shaws is dwynin;
on the Carlin Hills an Carlin's Cleuch
the air's dreich and cauld.
The Lang Water's gowstie jows
are lowpin e'en ti the lift,
an out on the border the derk-like vird
convoys the drumlie clouds.
Chrysanths—twice ti ma ee they've brocht
tears for ither davs.
a coble aa its lane—it tethers ma hairt
ti ma ain auld kailvaird.
The winter duds is out in ilka airt,
an fowk eidently cloutin them:
hie abune White Imperatour toun,
claes-bittles thrang in the gloamin.
其一


玉露凋傷楓樹林 巫山巫峽氣蕭森

江間波浪兼天湧 塞上風雲接地陰

叢菊兩開他日淚 孤舟一系故園心

寒衣處處催刀尺 白帝城高急暮砧
Shivered by the dews of harvest time, the maple woods are fading; on the Carlin Hills and Carlin's Gorge the air is keen and cold. The Long Water's gusty waves are leaping high aloft, and out on the border the dark land connects with troubled clouds. Chrysanthemums—twice to my eye they've brought tears for other days. A skiff all by itself ties my heart to my own old garden. Winter clothes are out in every part, and people diligently beating them: high above White Imperator town, clothes-beetles busy in the gloaming.




2

The sklentin sun is faain fast
on this lanefu southron toun;
Whane'er the sterns o the Plew comes out,
A turn ti the Citie o Peace.
A Lissen ti the puggies yowl-yowlin awa:
thrie times they sab, in suith!
An here's me, chairgt wi a yuiseless eerant,
a raft in the back-en o the year.
Frae decorit chancellery and perfumit incenser
A'm banist, prostrait on ma bowster,
as inben the hill biggins' caukit bittlins,
dowie whissles cry their dool.
Oh sirs, see ye on yonder stanes
the mune throu aa the speilin-leafs!
She's ave been leamin on the rashie-flouers
aa alanq the annays!
其二


夔府孤城落日斜 每依北斗望京華

聽猿實下三聲淚 奉使虛隨八月槎

畫省香爐違伏枕 山樓粉堞隱悲笳

請看石上藤蘿月 已映洲前蘆荻花
The slanting sun is falling fast on this lonely southern town (Kuizhou); whenever the stars of the Plough come out, I turn to the City of Peace (Chang'an). I listen to the gibbons wailing and wailing: they really do sob three times! And here I am, charged with a useless errand, a raft in the autumn of the year. From decorated chancellery and perfumed incense burner I'm banished, prostrate on my pillow, as inside the hill buildings' chalk-white battlements, doleful whistles cry their woe. Oh sirs, see on yonder stones the moon through all the creepers! She's been shining on the bulrushes all along the river islands!
At Once Beyond and Within Reality and History: Shang Qin's Subversive Strategies
By Wai-lim Yip

……
TO HIS FELLOW-POETS, Shang Qin was a poet of poets from the very beginning. He sculpted every word very much in the spirit of Edgar Allan Poe—as, for instance, in his construction of 'The Raven'—highlighted by Charles Baudelaire: 'no one point in its composition is referable either to accident or intuition—that the work proceeded, step by step, to its completion with the precision and rigid consequence of a mathematical problem'(1) and in that of Du Fu 杜甫 (712—770): 'I would risk death groping without rest until I find this startlingly eye-opening word.'(2) Every turn of words is a manoeuvre to make his readers attentive to the cut and turn of events, visual or psychological, at every step. I, for one, was, like a fan, following very closely all his publications from the late 1950s through the 1970s, when we worked together with other poets of like mind to bring about what can now be characterized as Taiwan modernism.
Here, I would like to begin by reading a short poem little noticed in Shang Qin studies, 'Wind', a piece I have always regretted for not having included in my Modern Chinese Poetry: Twenty Poets from the Republic of China, 1955—1965,(3) in which I highlighted some of his most powerful poems.
Wind
—It had been a torrential river here.
—You mean this thrown-about wilderness?
—In one night all the water oozed away, gone.
—Only in one night?
—Eh, only in one instant.
From the sudden silence swell waves and waves of white reed flowers. …
風
—這裏曾是一條淘湧的河流。
—你是說這莽莽的荒原?
—一夜間滲失了所有的水。
—只一夜麼?
—嗯,頃刻。
突來的沉默湧起蘆花的浪……
_______________
(1) 'The Philosophy of Composition', in Selected Writings of Edgar Allan Poe, ed. Edward H. Davidson (Boston: Houghton Miifflin, 1956), p. 454.
(2) This is a free transatlio of 語不驚人死不休 in which the 'startlingly eye-opening word' phrase attempts to incorporate the fact that this is often the keyword or 'eye of the poem' 詩眼.
(3) Deeply convinced by the fruits of these poets, I began, as early as 1963, to translate their poetry into English, covering the best works from several poetry societies: Xiandai 現代 [Modern], Chuangshiji 創世紀 [Epoch], Lanxing 藍星 [Blue Stars] and Li 笠 [Bamboo Hat].
……