Renditions no. 70 (Autumn 2008)​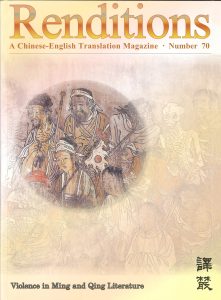 Special Issue: Violence in Ming and Qing Literature
Guest Editor: C. D. Alison Bailey
This issue has as its theme violence in Ming and Qing dynasty literature. The translated texts span a period from early Ming to late Qing and include vernacular and classical fiction, drama, memoirs, and poetry. The subject matter and mood range from the horrific to the bawdy, from the supernatural to historical documentation, and from gruesome to grotesque. Themes include justice and injustice, revenge, rape, war and a hen-pecked husband.
146 pages

C. D. Alison Bailey
Writing (and Reading) Violence
5
Beijing Sojourner
A True Record of Mutual Correspondences between Heaven and the Human World
Translated by H. Laura Wu
13
An Zhiyuan
The Spring of '43: A Record
Translated by Allan H. Barr
29
Qu You
The Regulator of the Ultimate Void
Translated by Judith T. Zeitlin
35
Pu Songling
Gongsun Jiuniang from Liaozhai zhiyi
Translated by Judith T. Zeitlin
41
Zuo Xijia
A Widow's Journey during the Taiping Rebellion: Zuo Xijia's Poetic Record
Translated by Grace S. Fong
49
Pu Songling
Shang Sanguan
Translated by Catherine Swatek
59
Pu Songling
The Cold and the Dark: extracts
Translated by C. D. Alison Bailey and Bonnie S. McDougall
65
Free-Spirited Immortal
The Filial Woman Slaughtered in Jiangdu: excerpts
Translated by Wai-yee Li
89
Li Yu
Beating the Officers
Translated by Catherine Swatek
101
Anonymous
Slaying the Tiger General from Prophetic Paintings
Translated by Josh Stenberg
114
Chu Renhuo
Romance of the Sui and Tang: an excerpt from Chapter Eighteen
Translated by Robert E. Hegel
122
Founder of the Female-taming Sect
The Gourd of Vinegar: excerpts
Translated by Courtney Loo
131
Book Reviews
138
Notes on Authors
142
Notes on Contributors
144
The material displayed on this page is for researchers' personal use only. If you wish to reprint it, please contact us.
The Cold and the Dark: extracts
By Pu Songling
Translated by C. D. Alison Bailey and Bonnie S. McDougall
……

Magistrate Wang said, 'Since she's a woman, this must have been done at your instigation. Otherwise how could she have carried this out herself?' Shang Chen bowed and said respectfully:  
'The Lantern Feast was busy, nowhere did we see
That our sister dear had disappeared, deserting us to flee;  
Not drowning in the well, nor hanging from a tree.
We thought we'd find her dead, or living in disgrace,
We dared not let it be known, for fear that we'd lose face.
Who would have guessed her righteous will,
To avenge the deed that served us ill.'
'It wouldn't be right to leave her body here. Let me take it away.' At this point the dead man's son, Zhao Bao (whose nickname was Crooked Zhao) came forward. 'Please leave behind the heart that's in her mouth,' he said respectfully to the magistrate. The magistrate ordered the heart to be pulled out. The brothers duly set to it.
The younger gripped his sister's chin, the elder raised her face,
He pushed a chopstick in her mouth, but it failed to make a space.
She had clamped her jaws so tightly, he feared her teeth would break.
He stopped what he was doing, and told them not to scoff,
Since it couldn't be extracted, they'd better slice it off.
We can't prise it out: better to slice it off instead!' said Shang Chen. When Crooked Zhao heard this, he pulled out a knife, 'Why not just cut open her mouth to get it out?' Shang Li also pulled out a knife. 'If you so much as move, we'll kill you!
Enraged, the young man rushed at him, declaring Zhao a scoundrel,
And a fight broke out between them, while the magistrate presided.
'If you so much as touch her,
You'll end up like your father.'
One person from each family had already lost their life,
How could they behave like this, each brandishing a knife,
holding the law in contempt, and causing grief and strife.
Greatly alarmed, the magistrate ordered someone to grab the knives, declaring that anyone who wielded a knife would receive the same punishment as a murderer. He then ordered Zhao Bao to pull the heart out himself. Zhao Bao went over to pull open Sanguan's lips. All of a sudden he fell to the floor with a crash, blood flowing from all the orifices in his head.
Sanguan possessed such miraculous power,
That Zhao Bao's head was aching all over,
As he writhed on the floor seeking cover.
Blood flowed from his nose and streamed from his ears,
The cowardly magistrate gave vent to his fears,
Zhao's family rushed forward in tears.
But while all the others were offering aid,
Li slipped away to escape the stockade.
People rushed forward frantically trying to help Crooked Zhao. Shang Chen advised his brother to leave. "Take up our sister's body and carry it to our clansmen. I'll stay behind and keep an eye on things, in case he revives and implicates us.'
Shang Chen then counselled his courageous young brother,
'Now listen to me, and then go for cover,
Our sister has maimed him with her magic power.
On account of our suffering she's making him pay.
As witness to this, I still have to stay,
But you should clear off while they're all distracted,
Make haste to be sure her escape is enacted!'
……